BitLux is one of the first private jet charter companies to accept payments for flights with cryptocurrencies and so far this year around half of its bookings have been paid for using crypto.
In this Q&A executive and charter director for BitLux, Kyle Patel discusses how the new private jet charter company based in Florida stands out from its competitors.
It's more of a life path than a career path. My father is a commercial airline pilot and has been for my entire life. He's always had a love for flying. I moved to Florida in 2013 and after about two years, I went into aircraft management. I began by managing a fleet of Citation CJs and Eclipse 500s out on the west coast, primarily in the LA area, but also Arizona and Arkansas.
In 2017, I was contracted to manage a decent-sized charter company that was ready for rapid growth. In just 10 months of overseeing its performance the company grew from US$1.5 million in revenue to over US$7 million. This was accomplished by instilling a correct, repeatable, and reliable process that we trained on and built on. Later that year, I found myself in a unique situation where a customer wanted to pay for their flight with cryptocurrency. At the time there was no actual process or mechanism to do this. I developed a simple way to accept crypto and went from there.
By the middle of 2018, I had an outline of what I wanted to accomplish with Bitlux, ensuring that the marketplace had two pain points addressed. First, offering an ethical, accurate, diligent, and effective charter company customers can put their total faith into. The second, was to build a business that took the core model of cryptocurrency into its operational standards — accuracy, dependability, flexibility, and freedom. In May of 2018, I left the company I was at and moved to Bitlux full time.
I created Bitlux because the industry needed a charter company that could maintain amazing service and raise the bar for ethical standards and business practices.
Let's start with the worst. Currently, in this climate of extreme demand, the worst part of my job is hearing that someone on our charter team cannot find an available aircraft for a jetsetter or business traveler. Nothing pains me more than to be in a position where, due to circumstances beyond our control, we cannot provide an amazing service for great people. The 'beyond our control' aspect is what gets me — as much as I wish I could prevent mechanical issues, schedule delays, weather, or availability, I cannot — but I do find comfort in knowing our team works tirelessly to ensure things are handled to the best way possible.
The best element of my job is the big picture that I possess about the role our company plays in society. I completely understand how imperative our service is to some of the most amazing and influential people in the world today. From Asia to the Americas, we've provided services to some of the most important meetings that directly impact  our society even if we may not even realize this in our own in day-to-day lives.
For our customers, it is a high communication and high detail experience, from start to finish. Clients come to us, not fully knowing what they're receiving, but soon learn that they get the most attention here, more than anywhere else. Moreover, we have a fine-tuned process that we train on every week to ensure trips and vendor relations are always handled according to exceedingly high standards.  We do our best to ensure that our clients can avoid any schedule changes on the back end and minimize any schedule deviations.
Finally, we always operate with a mission of integrity and bring the highest ethical standards  in the private luxury air travel industry. Whether travelers know it or not, ethical boundaries are often crossed in this industry, by taking advantage of clients and consumers that are not fully educated on the ins and outs of booking private jet travel and this is unacceptable.
Like so many other small businesses, the beginning of the pandemic was extremely difficult with so much uncertainty. However, aviation is an extremely resilient industry. When things go downhill, planes go up. Unlike many industries, we're experiencing a surge in demand from travelers who never thought about flying privately. Our new normal has changed a bit — where we used to be able to have a plane ready to go in 4 hours or less, the entire industry is at a point where inside 72 hours can be challenging.
Our goals are to bring the core values of private aviation back to the industry, increase adoption and utilization of cryptocurrency, and push the envelope when it comes to standardizing basics, such as maintaining high ethical standards. I believe, like many of our clients, that the net effect of doing a great job, every time, reliably, and consistently, leads to nothing but great things for business and consumers alike.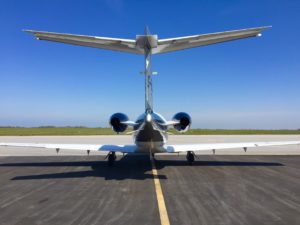 Paige is an experienced journalist and editor who started her career covering the building and architecture sector. After several years writing and editing online and print articles for leading journals in this sector, she is bringing her thorough approach to technical content to covering aerospace engineering. In her spare time she enjoys traveling and is always planning her next trip
Comments are closed.
© Copyright Mark Allen Group Limited 2020 | All rights reserved