Latest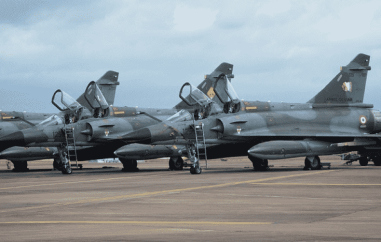 Two Chinese and six Russian fighter jets entered South Korea's airspace surveillance zone Wednesday, according to Seoul. South Korea then sent up its own fighter jets, the military staff in Seoul said. South Korea's actual airspace was not violated, it said.
The Defense Ministry in Moscow said Russian and Chinese fighter jets held joint patrol flights over the Sea of Japan and the East China Sea. At times, the aircraft, including long-range Tupolev 95 bombers, were escorted by fighters from "foreign states," it said. However, the Russian and Chinese aircraft had strictly adhered to international law requirements and had not violated any foreign airspace.
According to the South Korean military, Chinese H-6 bombers first repeatedly penetrated the KADIZ air defense zone, which supplements South Korea's airspace as a kind of buffer zone, in the early morning. A few hours later, they were then escorted by Russian fighters, including SU-35 fighters in addition to TU-95 bombers, he said. The aircraft group had left the KADIZ after 18 minutes.
Russia does not recognize South Korea's air defense zone. China, in turn, has stated that the KADIZ is not South Korea's territorial airspace and therefore freedom of movement should apply there for all countries. China and Russia say they regularly hold joint training maneuvers of their fighter aircraft.
Image by Steve Richardson
 
Health Insurance in Germany is compulsory and sometimes complicated, not to mention expensive (see here for our PKV Cost comparison tool). For our guide on resources and access to agents who can give you a competitive quote, just click below. Alternatively, check out our useful private health insurance FAQ for Germany
Health Insurance 101 »
Daycare Nanny Has 2 Places Available From February 2022
I am a qualified daycare nanny and look after 4 children aged 1-3 years.
From February 2022 I have 2 places available in my day care center for children aged 12-14 months.
I work with the city youth welfare office, the fees are subsidized by the city of Munich. The rooms for day care are located in my family's child-friendly arranged apartment.
Location: Munich – Johanneskirchen (Fideliostraße)
Working hours: Mon – Thu 8:00 a.m. – 4:00 p.m.
1 childcare place = 32 hours per week
69 EUR per month (34.5 EUR with sibling bonus)
Enquiries to:
editor@themunicheye.com
More software Jobs in Germany »
© The Eye Newspapers 2010 – 2022 | About Us | Impressum | Contact Us | Disclaimer | Sitemap