By Staff Writer | July 4, 2021
Send Feedback
Check out the July 4 edition of What's Trending in Aerospace, where editors and contributors for Avionics International bring you some of the latest headlines and updates happening across the global aerospace industry.
United Airlines has placed its largest order ever for a total of 270 Airbus and Boeing jets. (Boeing)
United Airlines placed the largest combined order in the Chicago-based air carrier's history for 270 new Airbus and Boeing aircraft.
The order includes 50 Boeing 737 MAX 8s, 150 737 MAX 10s, and 70 Airbus A321neos, with a "new signature interior that includes seat-back entertainment in every seat," according to a June 29 press release.
"Our United Next vision will revolutionize the experience of flying United as we accelerate our business to meet a resurgence in air travel," said United CEO Scott Kirby. "By adding and upgrading this many aircraft so quickly with our new signature interiors, we'll combine friendly, helpful service with the best experience in the sky, all across our premier global network. At the same time, this move underscores the critical role United plays in fueling the broader U.S. economy – we expect the addition of these new aircraft will have a significant economic impact on the communities we serve in terms of job creation, traveler spending and commerce."
 
 
 
A Boeing 737-200 air cargo aircraft operated by Transair made an emergency landing in the Pacific Ocean near Kalaeloa, Hawaii, on Friday, according to a July 2 press release published by the U.S. Coast Guard.
The Coast Guard described it as an all-cargo inter island "transport plane" operated by Hawaiian air cargo carrier Transair, that made an emergency landing "2 miles south of Kalaeloa."
"Both people aboard were rescued by an Air Station Barbers Point MH-65 Dolphin helicopter and Honolulu Fire Department rescue boat and brought to The Queen's Medical Center. They are reported to be in stable condition at this time," according to the release.
"NTSB sending team of 7 investigators for investigation of Friday's crash of a Transair Boeing 737-200 cargo airplane in the waters off the island of Oahu near Honolulu," the National Transportation Safety Board (NTSB) tweeted on Friday.
 
 
Brian West is the new chief financial officer of Boeing. (Boeing)
The Boeing Company on June 30 named Brian West as their new executive vice president and chief financial officer effective August 27, 2021.
In the new role, West will lead all aspects of Boeing's financial strategy, performance, reporting and long-range business planning. He will also oversee the company's business transformation efforts and will have executive responsibility for the company's global financing arm, Boeing Capital Corporation.
West joins Boeing following a diverse career in senior financial and operational roles spanning several industries, including aerospace, manufacturing, infrastructure, healthcare and information services, among others, according to the release. He has served as the chief financial officer of Refinitiv since 2018, and was previously CFO and executive vice president of Operations for Oscar Health Insurance, as well as CFO and COO of Nielsen. Prior to Nielsen, West spent 16 years at General Electric, where he served as CFO of GE Aviation and CFO of GE Engine Services, according to Boeing.
"Brian is the ideal executive to serve as Boeing's next CFO given his significant financial management and long-term strategic planning experience in complex global organizations across the aerospace, manufacturing and services industries," Boeing President and CEO Calhoun said in the release. "I have had the pleasure of working with Brian previously, and he is an exceptional leader whose broad operational expertise and commitment to transparency with stakeholders will advance our efforts as we continue our focus on safety and quality, improving our performance and transforming our company for the future."
 
Grazia Vittadini is moving on from her role as CTO of Airbus to pursue other opportunities. (Airbus)
Grazia Vittadini served her last day Chief Technology Officer (CTO) at Airbus this week, releasing a video message discussing her departure on LinkedIn.
Vittadini's departure comes after more than 19 years with the company, and is part of several leadership changes first announced by the company in April.
 
 
 
 
ZeroAvia is beginning the next phase of its hydrogen-electric aircraft research and development project by dedicating two twin-engine 19-seat Dornier 228 aircraft for HyFlyer II program, according to a June 29 release.
The two aircraft will come from the UK and the U.S. and were previously used for regional flights, according to the release.
"We are eager and ready to begin testing our hydrogen-electric powertrain technology on a larger commercial-size aircraft and grateful to our investors and grant funders for their continued support of our vision for sustainable aviation," Val Miftakhov, Founder and CEO at ZeroAvia, said in a statement "Various projections indicate that aviation may account for over 25 percent of human-induced climate effects by 2050. We are on the path to helping reverse that trend, first with our successful 6-seater testing and now with the R&D for our 19-seater, and the kick-off of our 50+ seat program. Hydrogen is the only practical solution for true climate-neutral flight, and it will become a commercial reality much sooner than many predict."
ZeroAvia also received $13 million in funding for its 50+ seat engine development program from AP Ventures, Alumni Ventures Group, SGH Capital, Amazon Climate Pledge Fund, Breakthrough Energy Ventures, Summa Equity, Shell Ventures, SYSTEMIQ, and Horizons Ventures, according to the release.
"We are delighted to welcome ZeroAvia to our existing portfolio of hydrogen-related technologies," Kevin Eggers, Partner at AP Ventures, said in a statement. "We have been impressed with the progress that ZeroAvia has made over the last 24 months—technically, operationally, and commercially. Furthermore, we have become increasingly confident about the significant role of hydrogen in decarbonizing aviation. We believe that ZeroAvia will pioneer the development of hydrogen-electric powertrains for the aviation space."
 
Gulfstream completed its final G550 delivery, according to a July 1 press release. (Gulfstream Aerospace)
Gulfstream Aerospace Corp. on July 1 announced it has delivered the final commercial G550 aircraft type to an international customer, further increasing the worldwide fleet of more than 600 total G550s already in service. The delivery took place June 30.
The G550 first entered service in 2003 as the launch platform for Gulfstream's PlaneView flight deck. It was also certified with Enhanced Vision System — now known as Enhanced Flight Vision System (EFVS) — as a standard feature, leading the way for subsequent aircraft to incorporate the pilot safety tool in their array of offerings.
"For nearly two decades, the G550 has been exceeding customer expectations," Mark Burns, president, Gulfstream, said in a July 1 press release. "The G550 set a new standard for performance and reliability and continues to outperform and impress with its wide-ranging capabilities. Given our vast G550 fleet in service, we look forward to continuing to support all G550 customers around the world with Gulfstream Customer Support's extensive network."
 
 
Bombardier has received a firm order for 10 aircraft from an existing customer. The Canadian business jet OEM is keeping the order mix undisclosed at this time, according to a June 30 press release.
This agreement represents a total value of $451.8 million U.S., according to current list prices.
"We are filled with pride as we announce the year's largest business jet order," Éric Martel, President and Chief Executive Officer, Bombardier said in the release. "Our portfolio ideally responds to the growing interest in private aviation, with spacious, high-performing aircraft that are designed to offer the best passenger experience in terms of convenience, comfort, air quality and a smooth ride."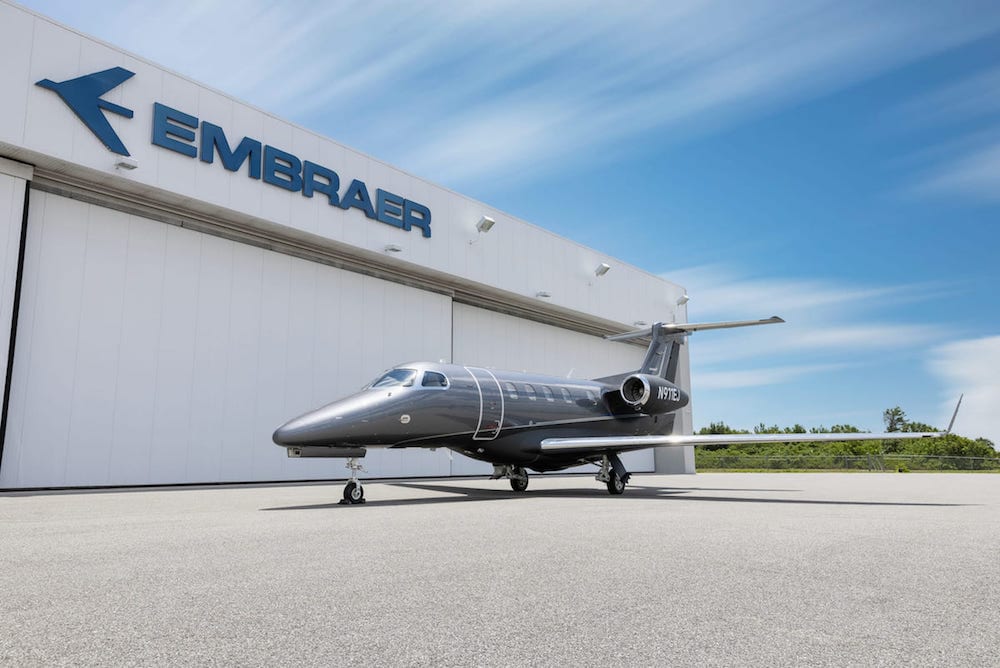 Embraer delivered the first limited-edition Phenom 300E aircraft—part of the Duet collaboration with Porsche—to an undisclosed customer based in Fort Lauderdale, Florida, according to a June 30 press release.The aircraft was delivered at Embraer's global customer center in Melbourne, Florida.
The collaboration pairs the limited edition Phenom 300E with the Porsche 911 Turbo S.
"We designed Duet in collaboration with Porsche to introduce a seamless travel experience for those wanting to arrive in something totally original, while holding true to our vision of delivering the ultimate experience in business aviation," Michael Amalfitano, President & CEO, Embraer Executive Jets said in the release. "The Phenom 300E is already the best-selling light jet in the world, and we continue to push the boundaries to provide even more value and bring new experiences to our customers."
The F-35 Lightning II from Lockheed Martin was chosen by the Swiss Federal Council for its new fighter aircraft competition, according to a June 30 release.
"We are honored to be selected by Switzerland and look forward to partnering with the Swiss government, public, air force and industry to deliver and sustain the F-35 aircraft," Bridget Lauderdale, Lockheed Martin's vice president and general manager of the F-35 Program, said in a statement. "With the selection, Switzerland will become the 15th nation to join the F-35 program of record, joining several European nations in further strengthening global airpower and security."
 
 
 
The German Ministry of Defense is buying five new Poseidon aircraft from Boeing. (Boeing)
Germany's Ministry of Defense signed a letter of offer and acceptance (LOA) on June 30 to procure five Boeing P-8A Poseidon maritime patrol aircraft under the U.S. Foreign Military Sales (FMS) program.
According to the German Ministry of Defense, the Bundreswehr, the deal is worth about 1.1 billion Euros or $1.3 billion. This agreement came after the German parliament formally approved the procurement of the five aircraft on June 24.
Boeing said this order will make Germany the eighth customer for the P-8A after the U.S., Australia, India., New Zealand, Norway, South Korea and the United Kingdom.
"Boeing is honored to provide Germany with the world's most capable maritime surveillance aircraft. We will continue to work with the U.S. government, the German government and industry to establish a robust sustainment package that will ensure the German Navy's P-8A fleet is mission ready," Michael Hostetter, Boeing Defense, Space and Security vice president in Germany, said in a statement.
 
 
Naval Air Systems Command awarded Lockheed Martin a not-to-exceed $1.8 billion un-definitized contract action (UCA) on June 30 to procure recurring logistics services for delivered F-35 Joint Strike Fighters.
The Defense of Department announcement said these services cover delivered F-35s in support of the U.S. Air Force, Marine Corps, and Navy as well as non-U.S. DoD participants and Foreign Military Sales (FMS) customers.
The department said services will include "ground maintenance activities, action request resolution, depot activation activities, automatic logistics information system operations and maintenance, reliability, maintainability and health management implementation and support, supply chain management and activities to provide and support pilot and maintainer initial training."
Work will largely occur in Fort Worth, Texas (61 percent); Orlando, Florida (24 percent); and Greenville, S.C. (8 percent) and is expected to be finished in December 2021.
 
 
 
The view from onboard LauncherOne. (Virgin Orbit)
Virgin Orbit has kicked off commercial service with a successful LauncherOne mission on Wednesday, June 30.
As part of Virgin Orbit's air-launch system, carrier aircraft Cosmic Girl took off from a flight runway at the Mojave Air and Space Port in California at 6:50 a.m. PDT. Cosmic Girl, a modified Boeing 747, dropped the rocket at 7:47 a.m. PDT, when it had reached about 45,000 feet in altitude.
LauncherOne separated cleanly and ignited its first stage engine, then completed stage separation. Satellites for the U.S. Department of Defense (DoD), SatRevolution and the Royal Netherlands Air Force, were successfully deployed to 500 km Low-Earth Orbit (LEO).
The mission deployed three cubesats for the DoD as part of the Space Test Program's (STP) Rapid Agile Launch (RALI) Initiative. This launch was awarded to Virgin Orbit subsidiary VOX Space by the Defense Innovation Unit (DIU).
The mission also carried the Netherland's first military satellite, a cubesat for Royal Netherlands Air Force called BRIK II, built and integrated by Innovative Solutions in Space. Polish space company SatRevolution launched its first two optical satellites STORK-4 and STORK-5 of the company's planned 14-satellite constellation on the mission as well.
 
 
 
Volocopter unveiled its VoloDrone utility system, which can be remotely piloted or automated. (Volocopter)
Volocopter has created a proof of concept for its electric cargo drone, VoloDrone, with the help of its logistics partner DB Schenker, according to a July 1 press release.
During a joint static proof of concept (PoC) at Messe Stuttgart, the two companies tested logistic operations including personnel, payloads, automated ground vehicles, and VoloDrones, according to the release.
"By developing a blueprint for VoloDrone operations, Volocopter is leading the way into the next dimension of transport logistics with tangible and operational data backing our service claims," Christian Bauer, Volocopter CCO, said in a statement. "Our work with DB Schenker shows that they are a great investor, a valuable partner, and an enabler for our commercial VoloDrone operations."
The VoloDrones were simulated within a logistics network by studying ground processes, testing the automated supply of the drone through autonomous vehicles, and conducted pre-flight cargo checks, according to the release.
"The VoloDrone unlocks new possibilities for the logistics industry, and it represents a key element for DB Schenker's innovation and sustainability roadmap for logistics," Erik Wirsing, global head of innovation at DB Schenker, said in a statement. "Volocopter's leadership in this emerging urban air mobility industry is most evident in their practical solutions, their customer-centric approach, and their commitment to bring UAM to life."
 
 
 
 
An image of Zipline's flight operations featured on its website.
Zipline, the drone logistics company, announced $250 million in new funding in a June 30 release. The company is now valued at $2.75 billion.
According to the release, Zipline will use the new funding to advance its autonomy platform, aircraft, fulfillment system, and operations. They will also use the funds to expand into new industries and geographies.
"At Zipline, our mission is to create the first logistics company that serves all humans equally. Around the world, our partners are reimagining how patients access care with fast, reliable on-demand delivery," Keller Rinaudo, founder and CEO at Zipline, said in a statement. "Together, we have completed hundreds of thousands of deliveries of blood, medicines and vaccines, and today Zipline makes a commercial delivery every four minutes. In the past year, we have seen major growth in every market, including the U.S., and we're continuing to build on our proven track record and technology to bring instant logistics to more partners, communities and people."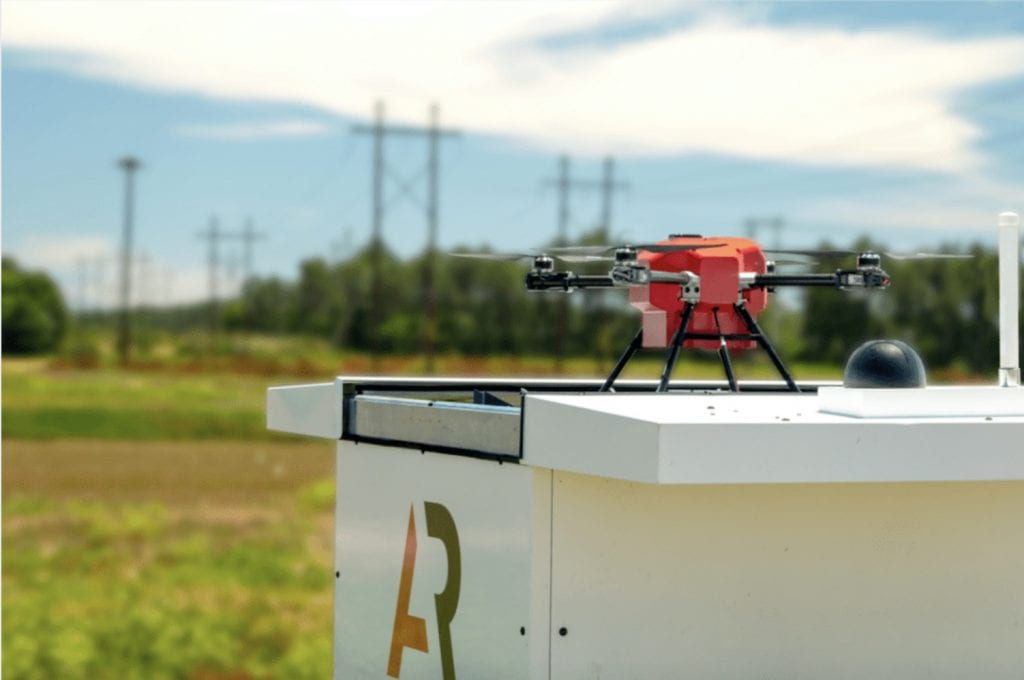 American Robotics will be joining the Federal Aviation Administration's (FAA) Beyond Visual Line of Sight (BVLOS) Aviation Rulemaking Committee (ARC), the company announced in a June 29 press release.
The FAA BVLOS ARC will study how drones are used in BVLOS cases and send recommendations to the FAA on what rules should be created.
"American Robotics is excited to participate in pushing forward BVLOS regulations alongside the FAA to develop safe integration of UAS into our National Airspace System," Reese Mozer, co-founder and CEO of American Robotics, said in a statement. "Our groundbreaking FAA approval in January 2021 was an important and significant step forward for the commercial drone community as a whole. We look forward to sharing our insights with the broader commercial drone community, and the FAA, and providing commercial users better access to the data and insights that are only accessible through an automated drone solution."
 
 
 
 
 
The U.S. Federal Aviation Administration (FAA) and the European Commission's Directorate-General for Mobility and Transport (DG MOVE) said they were committed to making aviation safer and more sustainable during a virtual meeting, last week according to a June 30 press release.
"We've proven we can accomplish more, with better results, when we work together," FAA Administrator Steve Dickson said in a statement. "President Biden made this clear on his trip to Europe earlier this month. He reaffirmed the primacy of the U.S.-European alliance. The bonds we have forged through NATO and countless other areas continue to serve the interests of both sides. And nowhere is that more true than our relationship in aviation safety and sustainability."
FAA and DG MOVE officials discussed areas for more safety cooperation, sustainable aviation fuels, more efficient operations, air traffic management, more efficient engine designs, and airframe and propulsion technologies, according to the release.
"The EU-U.S. aviation partnership is a cornerstone of international aviation and has proven to be very beneficial for both sides over the years," Henrik Hololei, Director General of DG MOVE, in a statement. "However, it is important to look ahead and continue to build on this strong, mutually beneficial, and future-oriented partnership. Today, we jointly confirmed our very close cooperation on aviation safety. Importantly, we also agreed that the reduction of emissions is the license to grow for the aviation sector and shared our commitment for the decarbonization of air transport. Together, we will help the sector build back better."